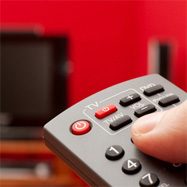 Enjoy the Big Screen Experience in your own Home
Advances in technology now ensure that you can now replicate the whole cinema experience in your own home.

Integrating your TV/DVD set-up with a high quality surround sound system and evenyour external games platforms such as Nintendo Wii, transforms yourl ounge into an interactive entertainment zone.
AKM Aerials install high performance home cinema systems that combine the latest super thin plasma screens with projectors and discreet connections to DVD players, speakers, games consoles and the internet.
We guarantee to take care of every facet of your installation from the supply of equipment to on-site training, making sure you can take immediate advantage of your new system.

Our team of engineers will leave your home in immaculate condition with all wires 'chased in' if required. We can even install the latest speaker designs which actually look like a hanging picture.
The cost of installing Home Cinema systems need not be prohibitive and AKM offer a free installation survey plus freequotes without obligation.