Subscription Free TV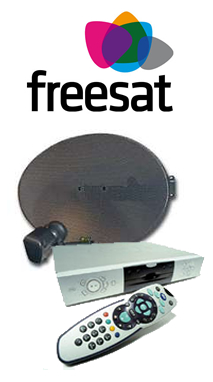 Freesat brings you over 140 great digital TV and radio channels. Favourites like BBC Three, BBC Four, ITV2, ITV3, More 4 and Film Four are all yours, with no contract and no monthly bills. Freesat also offers up to 70 hours a week of HD from the BBC and ITV at no extra cost.

What is Freesat?
Freesat was set up to ensure that everyone can access the best of free digital TV, no matter where they live in the UK. Freesat is a not-for-profit company owned by the nation's two most popular broadcasters, the BBC and ITV.

What channels?
Freesat includes over 140 digital channels and services, including TV, radio and interactive.

What about HD?
With Freesat, HD programmes (like all of the channels) are subscription-free, so you get an even richer viewing experience, but at no extra cost. You can then enjoy up to 70 hours a week of the best of BBC and ITV in amazing High Definition.

Once you've experienced HD, you'll never look back.

How do I get it?
Getting Freesat is easier than you think. All that is required is a one-off payment for the digital box, satellite dish and installation - so you pay once, and watch forever. And because Freesat is broadcast via satellite, it will be available to almost every household in the UK.